About Hopkins Surveying Group
Chattanooga's Oldest Surveying Firm
Certified Women Business Enterprise (WBE)
Hopkins Surveying Group, LLC has been in business for over fifty years. Originating as George A. Morton in 1950 to George A. Morton & Associates in 1960. George A. Morton was the original founder and had the foresight to form a partnership with a new college graduate David L. Hopkins, Jr., as one of the partners.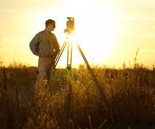 In 1965, Hopkins- Morton Engineering Company, Inc., was formed and the company provided land surveying and civil engineering primary in the Chattanooga area.
In 1990, due to the death of George A. Morton, the company changed its direction to specialize in only land surveying and became Hopkins Surveying Group, Inc.
Over the past 18 years, HSG has dedicated itself to the needs of retail development and specializes in ALTA/ACSM Land Title Surveys.

Our surveyors and cad operators have extensive knowledge and experience. We value the fifty years of previous surveys and extensive records of the Chattanooga and surrounding area. We are currently licensed in Tennessee, Alabama and Georgia. We continue to enhance our professional education of the staff and continue to stretch our professionalism to other surrounding states.
Surveying services
ALTA/ACSM Land Title Surveys
As-Built Surveys
Elevation Certificates
Boundary Surveys
Topographic Surveys
Subdivision Staking & Layout
Some of our retail clients
84 Lumber
AutoZone, Inc.
Baylor School
Bi-Lo, Inc.
CBL & Associates
Clear Channel Outdoor
Coca-Cola Bottling, Inc.
CVS
K-Mart
Life Care Centers of America
Memorial Hospital
New Plan Realty Trust

Rite Aid
Sonic Drive – In
State of Tennessee
Target Stores
The Home Depot
University of Tennessee at Chattanooga
Unum Provident
US Department of Interior
US Express
Walgreens
Wal-Mart, Inc.
Wolford Development